What Do You Need to Know About Owning Shed Structures?
Have you ever dealt with the inconvenience of searching through your garage, struggling to find a specific tool or item buried beneath piles of clutter? What about the frustration of having to move numerous items just to access something you need? These scenarios can not only waste valuable time but also cause unnecessary stress and hinder your enjoyment of your home.
For many homeowners, finding adequate storage space can be a constant challenge. Whether it's seasonal items, gardening tools, or outdoor equipment, the lack of proper storage can lead to frustration and a cluttered living environment or—worse yet—potentially damaging your items due to exposure to the elements.
But with our high-quality shed structures, you can reclaim your outdoor space and achieve optimal organization. Our sheds are built with durability and functionality in mind, providing the perfect solution for storing your belongings safely and efficiently. From small garden sheds to spacious workshops, we offer a wide range of shed options to suit your specific requirements.
And once you have a shed, practicing good shed ownership is essential, such as keeping up with regular maintenance and keeping your shed organized. Today's blog post is going to explore some of these attributes and give you the information you need to keep your outdoor space well-organized and clutter-free.

Start with a Quality Built Shed from Your Local Storage Shed Builders
When it comes to owning a shed, starting with a quality built structure is crucial. As your local storage shed builders, Fisher Structures takes pride in delivering top-notch sheds that are built to withstand the test of time. Investing in a well-built shed lets you enjoy peace of mind knowing that your belongings are protected from the elements and securely stored.
Our shed structures are constructed using top-quality materials such as pressure-treated lumber and durable siding, ensuring they can withstand harsh weather conditions and resist rot and decay. With proper shed maintenance, including regular inspections and repairs, you can extend the lifespan of your shed and keep it in good condition for years to come. By choosing a high-quality shed from reputable shed builders like us, you can have confidence in the longevity and durability of your outdoor storage solution.
Keep Up with Preventative Maintenance
It's important to stay on top of preventative maintenance to ensure your shed remains in optimal condition. Regular maintenance tasks such as inspecting for any signs of damage, cleaning the interior and exterior, and checking for proper ventilation can help prolong the life of your shed.
Regularly inspecting your shed allows you to identify and address any potential issues early on. Look for signs of wear and tear, such as loose or damaged boards, leaks, or pest infestations. Repairing these issues promptly will prevent them from worsening and potentially causing more significant damage to your shed.
Additionally, keeping the interior and exterior of your shed clean is essential for its overall upkeep. Remove any debris or clutter that may accumulate over time, which can attract pests or contribute to excess moisture. Regularly wash the exterior of your shed to remove dirt and grime and consider using a method of painting or staining to protect the wood from weathering.
By staying proactive with preventative maintenance, you can ensure that your shed remains in optimal working order and continues to provide you with the storage space you need.
Know Which Items You Can and Can't Store in Your Shed
Understanding what items are suitable for storage in your shed is essential for maintaining a safe and functional space. While shed structures are versatile storage solutions, certain items should not be stored inside due to safety concerns or specific storage requirements.
Do not store the following items in your shed:
Gasoline
Propane Tanks
Other Flammable Materials
Food
Beverages
Other Perishable Items
Some of these substances pose a significant fire hazard and should be stored in a well-ventilated area away from any potential ignition sources. Storing perishable items in your shed can attract pests and create unpleasant odors.
On the other hand, shed structures are ideal for storing:
Tools
Gardening Equipment
Bicycles
Seasonal Decorations
Sports Equipment
To ensure that you're using your shed appropriately, familiarize yourself with any local regulations or guidelines that may dictate what can or cannot be stored in outdoor structures like sheds. Following these guidelines will help you maintain a safe and compliant storage space.
Shield Your Shed from Pests
Keeping pests at bay is essential to protect your shed's contents and maintain its structural integrity. Pests such as rodents, insects, and even birds can cause damage to your shed and its stored items if left unchecked.
To prevent pest infestations, start by inspecting and sealing any potential entry points around your shed, such as gaps, cracks, or holes in the walls or foundation. Installing mesh screens on windows and vents can also help prevent pests from entering while allowing proper ventilation.
Regularly cleaning your shed and removing any debris or clutter will discourage pests from taking up residence. Consider using pest-resistant storage containers to store items, as this can provide additional protection against unwanted visitors.
Take immediate action to address the issue if you notice any signs of a pest infestation, such as droppings, gnaw marks, or nests. Consult with professionals if necessary to safely and effectively remove pests from your shed.
Stay Organized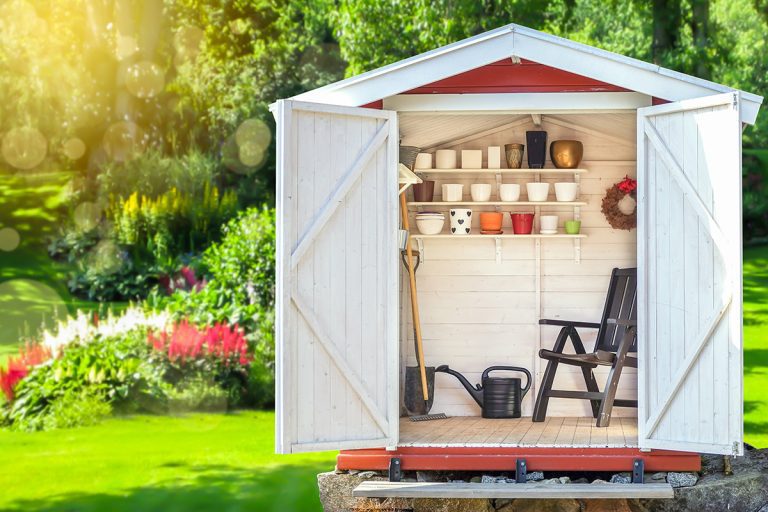 Keeping your shed organized not only makes it easier to find and access your belongings but also helps maintain the overall functionality of the space. By implementing effective storage solutions and organizing systems, you can optimize the available space in your shed and make the most out of its storage potential.
Consider investing in shelving units, hooks, and bins to create designated areas for different items. Categorize your belongings and store them accordingly, keeping frequently used items easily accessible.
Regularly declutter your shed and assess which items are still needed and which can be discarded or donated. This will prevent unnecessary accumulation of items and help you maintain a clutter-free and efficient storage space.
By staying organized, you'll enjoy a tidier and more functional shed and save time and effort when searching for specific items.
Ready to Start Ownership of Your Own Shed Structures?
Owning a shed offers many benefits, from organizing and protecting your belongings to providing additional space for your hobbies or outdoor equipment. However, not all sheds are created equal, and investing in a quality built shed is essential.
By starting with a shed from our local storage shed builders, you can have confidence in the durability and longevity of your outdoor storage solution. Our shed structures are built with top-notch materials and craftsmanship, ensuring they can withstand time and protect your belongings from the elements. With regular preventative maintenance and proper organization, your shed will continue to serve as a reliable storage space for years to come.
If you're ready to experience the convenience and functionality of a well-built shed, don't hesitate to reach out to us. We'll discuss your storage needs and guide you through choosing the perfect shed for you. Don't settle for subpar storage options when you can have a high-quality shed that meets your unique requirements. Get started now and unlock the full potential of your outdoor space with our top-of-the-line shed structures.
Resources: